Today let's talk about lead generation. Leads are the lifeblood of any business. There are some businesses that buy leads, but if you capture leads from your website directly, you have much better chance of directly influencing your prospects.
Let's look at different articles and resources to get more leads.
Just take care of a few things and you can make your opt-in forms look and perform great.
Make sure you put some thought into design. Don't ask unnecessary info. Make it easier to read.
Use clear and effective copy. Be conversational. Focus on benefits. Use action words in your CTA like 'Register Now', 'Sign me up' or 'Take me to my eBook'.
Use attractive lead magnets. Make sure your lead magnet is relevant, specific and valuable. 
Form timing and placement is very important. Make sure you don't annoy your visitors. Check your average bounce time and use that to show your popup.
---
Want to see the best performing lead generation funnels and the swipe files?
Get this eBook and learn how and why those funnels work.
For just $7, you get 108 different funnels. I have never bought any book so quickly.
[AD]
---
This is a pretty long article (31 minutes to read) and it's gold if you have a SaaS product and want to generate leads.
It covers different topics right from identifying who your best leads are, the right KPIs to measure, content marketing and SEO, why writing content that's educational and builds trust is important, using other channels like emails and chatbots, etc.
It's also important to look at other places to get leads than your website. There are many ways to repurpose your content and get an audience.
SaaS has an advantage of giving free trials and collecting highly qualified leads. If you can't give trials, go with demos and partners/referrals to work with.
Though it's long, it is a pretty exhaustive article that would be a good place to start if you think you can't get any new ideas for leadgen.
Once you get a lead, what do you do? You can't just send the lead magnet and leave your subscribers there.
Right from the first email interaction, you have to start providing value to your subscribers.
This drip scripts sequence is a good place to start to swipe your email sequence. It has 5 emails in the sequence and each email has its place and reason. Here are the 5 emails
Welcome & lead magnet delivery
Introduce yourself and find out their #1 problem
Solve their #1 problem
Surprise bonus resource
Next step
I have used this exact sequence before and it has yielded a much more active and engaged audience.
💋 Opt-in form Example – Kiss Test
This was one of the first-ever opt-in form (squeeze page as it was called then) which performed extremely well.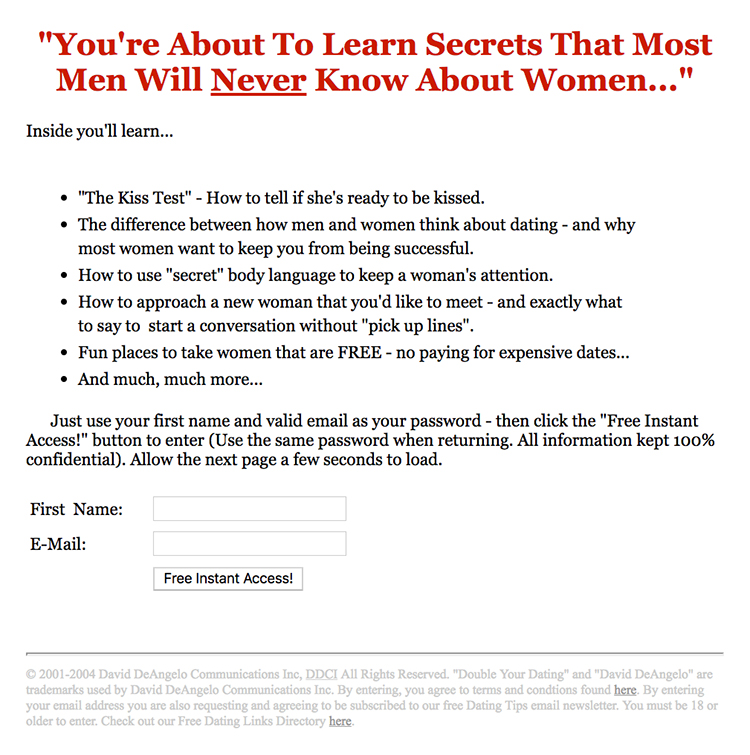 It is very simple, but the copy is what makes it irresistible. 
It was created by David DeAngelo (Eben Pagan's stage name). The site is still available today, but it has changed a bit.