Saw this Reddit post on how content marketing on LinkedIn is very generating great results, especially if you have a B2B product. The best part is, you don't have to spend any money to get new customers. This post has the following tips to increase your organic reach:
How the LinkedIn Algorithm works, especially the first 30-60 minutes of posting. And the right date & time to post.
Write in a conversational rhythm & tone. Use simple words. Be personal.
Use whitespace. Each paragraph should be 2 lines max.
Start your post with an attention grabber.
Use emojis. They make your text easier to read.
Learn to tell a story. Follow the Hero's Journey framework to tell the story.
---
[AD] If you want to learn about the Hero's Journey, I would recommend you get a free copy of Expert Secrets book by Russell Brunson. Amazing read. 
---
I just love Ryan Reynolds' ads, but this one goes one level above others. He uses the current situation, does a zoom video style presentation and brings in his own style of humour into it.
Can't give any more details, you've gotta see the ad.
This is how ads should be made. Make it look like UGC instead of high-production videos.
Neil Patel, one of the top SEO & digital marketers today has a free SEO tool called Uber Suggest. Today he launched a chrome extension which shows you extra information about keywords you search on Google.
You just install the extension and do a Google search for your keywords. You get a lot of info about the keywords like search volume, CPC, related keywords, an overview of each link like social shares, backlinks, etc.
Interesting finding using the tool: Did you know at least 366,000 people are searching for Peppa Pig's Height. Don't know why, but now I am curious to know.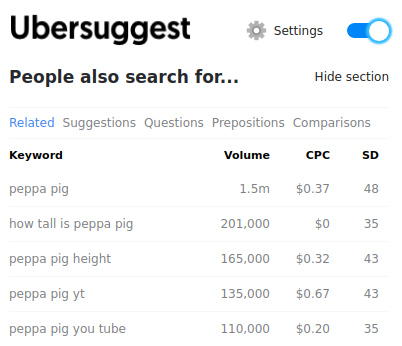 Every Tuesday Joanna Weibe of CopyHackers does a live session related to copywriting called Tutorial Tuesday. The latest session was about the 4 different types of decision-makers and how they think.
The episode isn't up on her youtube channel yet. So I am linking to the notes I took during the session.
Here are the 4 types:
Spontaneous: Emotional and Fast-paced.
Competitive: Logical and Fast-paced.
Humanistic: Emotional and Slow-paced.
Methodical: Logical and Slow-paced.